Finca: the Micro-Agriculture App
Finca is a mobile-marketplace application for micro-agriculture, connecting small-plot farmers with distributors and suppliers. Finca--"estate" in Spanish--allows users to form contracts with each other if they own farm acreage, supply goods, purchase crops or rent plots in community gardens to grow their own food.
MOBILE APP, USER RESEARCH, SITEMAP, WIREFRAMES, LOGO DESIGN
THE CHALLENGE
Mobile Application for Agricultural Marketplace
MY ROLE
UX Designer, Information Architect
THE SOLUTION
User Research, Interaction Design, Sitemap, Wireframes
Stakeholder Interviews, User Research
We learned from academic stakeholders supporting the project that in Honduras, poor fixed-line teledensity has led to a broad acceptance of mobile services that is 20% above the regional average in Central America. Small-plot farmers make up 85% of farms worldwide, and 80% of the world's rural poor today either own cellphones or live within range of a cellular network. Small-scale rural farmers are eager for solutions to their agricultural demands, and have demonstrated a real and clear interest in utilizing mobile technologies to meet their needs.
Interaction Design
Small-plot farmers require distributors to sell their crops to and suppliers from whom to buy fertilizer, equipment and seed. Farmers in developing regions need access to water-conserving irrigation equipment that will save them costs and increase their crop yield. Finca provides affordances for each level of the supply chain to make the connections they need at an individual basis, whether for rural small-plot farmers or urban micro-agriculture community gardens.
Sitemap
Finca's interaction design is based around users creating a profile through which to form contracts with other users. Once a user has created a profile, they can search for other users, view their open and past contracts, or adjust their user settings. Contracts can be created from a user's dedicated profile page, profile summaries displayed in search listings, or renewed from an existing contract in a user's contract history.
1. User Profile
Users create a profile, whether they are land owners, distributors or suppliers. Land owners create a farm profile, where they can list acreage used and acreage available, and which crops are available or when they will be ready for harvest. Distributors can purchase crops from land owners, and suppliers can contract seed to be planted or fertilizer according to available contracts.
2. Profile Listings
Users connect by interacting with other users' profiles. Users may search by name, region or crop type, and find farms, distributors or suppliers with available contracts. Profile listings expand out on tap or click to show contract types, and users may view contract details and fulfill an order by interacting with the contract of their choice.
3. User Contracts
Users can view their active and past contracts, organized by profile contracted with. Finca allows you to stay connected to the profiles of associated contracts, making it easy to fulfill the same contract multiple times with a single profile. Contract details appear in an overlaid form for finalization, with affordances for adjustment of details on each new contract met.
4. User Settings
Users may change their profile type, from distributor to supplier or land owner, or any combination thereof. Settings allow for the customization of the information displayed on your Finca profile.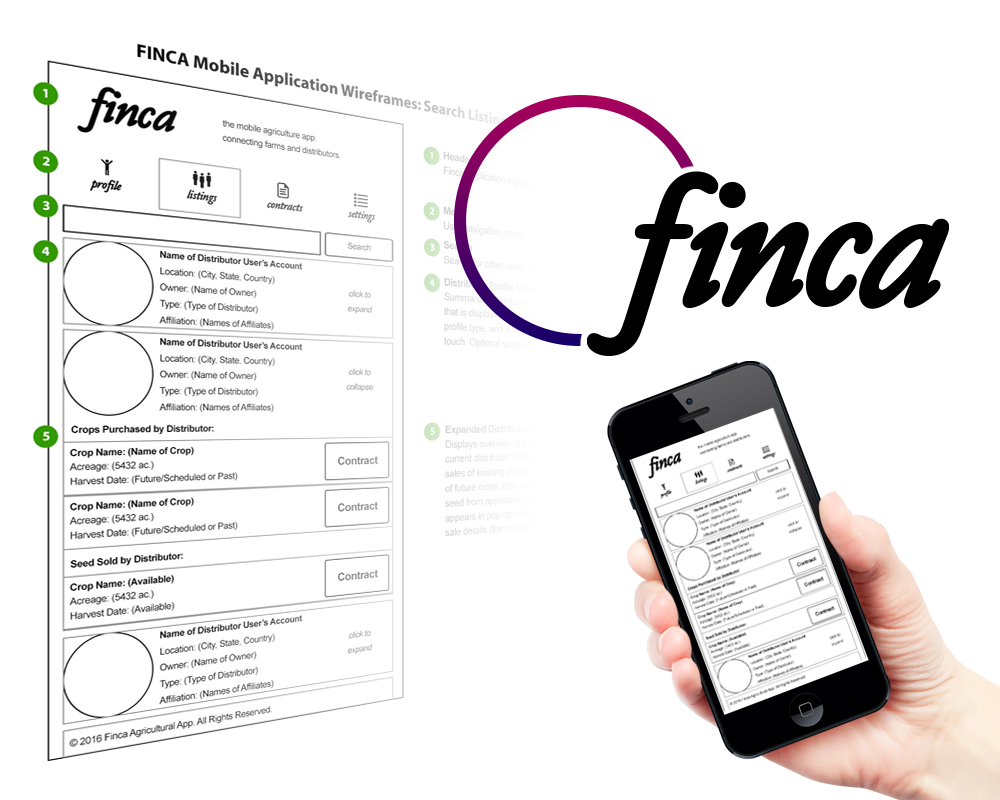 Impact
Finca places a mobile marketplace localized to a user's region in the hand of the individual agrarian, empowering them with the information they need to participate in emerging mobile-market economies. With mobile technology adoption spreading to regions with previously limited access to telecommunications, the opportunity exists to revolutionize the way small farmers do business and improve the lives of individual growers in a meaningful and impactful way.